Xiapex- collegenase
Collagenase
What is collagenase?
Collagen is the standard building block of the soft tissues of the body. Collagen is basically a piece of string which can join together to form a sheet or be rolled up in the body to form a tube or linked strongly to form a tendon. Each specific usage tends to have mainly one type of collagen. So Type 1 collagen is used by the body to make tendon, bone ligaments and Dupuytrens.




The advantage of so many different types is that each one needs a specific enzyme to break it down. Collagenase is a mixture of two separate enzymes. The first enzyme takes the strands of Types 1 and 3 collagen and chops the ends off. The second then takes the remainder and chops it into little bits. The table shows the potential danger of the collagenase as it will digest ligaments, scar tissue and tendon. So we have to be very careful where we put it, only surgeons witha certificate of training are allowed to use it.
Development
Collagenase has been developed over the last 15 years by Professor Larry Hurst from Stonybrook Hospital, New York, it was granted an American FDA license last year.
There are two hurdles to go through. Firstly the person administering the drug has to be trained. Xiapex is a powerful drug and therefore needs to be used in an appropriate fashion. There is a formal training program and accreditation, Mr Hearnden received his certificate in June 2011. You do not need to worry as Pfizer will not sell the drug to an untrained surgeon. Mount Alvernia Hospital has made Xiapex available. BUPA now recognise the injection and have given it a code.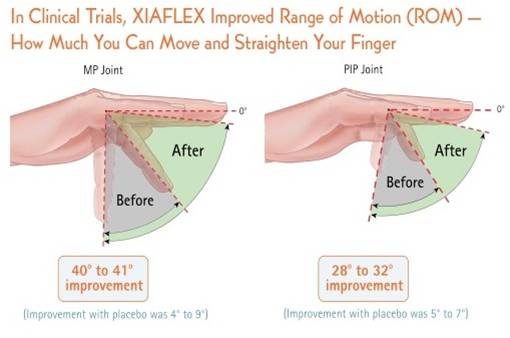 Treatment
So when can you have the first injection? If your Dupuytrens contracture is suitable for treatment in this way the first injection can be given in clinic. You will go home with a sticky plaster over the injection site. Two days later the finger is straightened. It must be put into a splint that day, so that the correction is maintained. Typically the splint should be worn every day and night for the first 2-4 weeks then at night time only for 3 months.